Class of 1977 Souvenirs for Sale!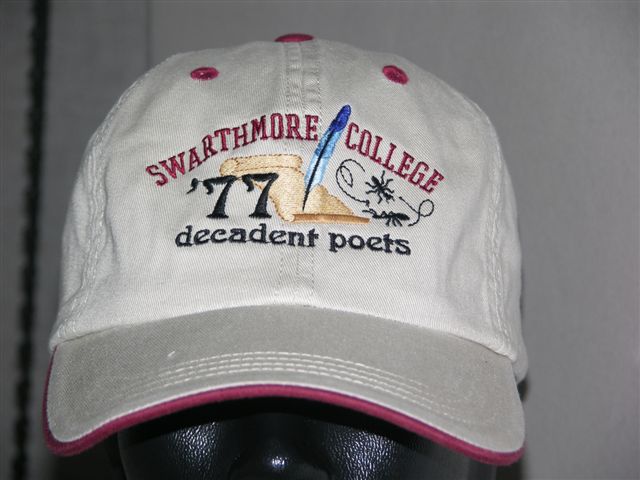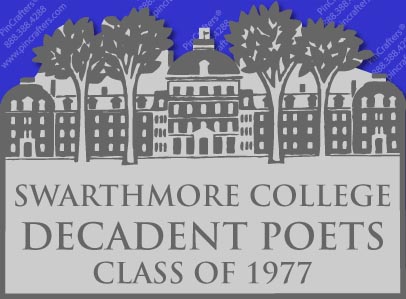 Your reunion committee looks forward to seeing you this weekend to celebrate our 30th Swarthmore College Reunion. To make the weekend even more festive, we've created some special reunion souvenirs for members of the class of 1977. "Decadent Poets" baseball caps and lapel pins will be on sale during the weekend, so when you stop by registration on Friday afternoon, look for Linda Thorsen who will be selling the pins and caps between approximately 1 and 4 pm (and at other times during the weekend).
Prices are quite reasonable:
$10.00 for a baseball cap
$6.00 for a lapel pin (actual size: 1 inch long, 3/4 inch tall)
$14.00 for one of each purchased at the same time.
Cash and personal checks are accepted. Any receipts over costs go to the Class Fund.
About the Designs. Souvenirs are designed to provide something for everyone. Caps are cotton in stone and garnet colors, great for keeping the sun off, and sport a fun and colorful "Decadent Poet" design including scroll, quill, and our favorite campus creatures, the Parrish ants. Lapel pins are small, quiet, and dignified antique silver tone die-struck metal pins with a variant of the Swarthmore logo and "Decadent Poets, Class of 1977."
(If you're reading this on the web site and were not able to attend Alumni Weekend, there may be some caps and pins left over after Sunday. Watch this space for more information on how to order.)
What Is the Class Fund and Why Contribute?
The Class Fund is an account maintained by the Alumni Office on behalf of each class of alumni. It facilitates management of reunion events such as class dinners and any other events sponsored by the class as a whole. (Note that the Class Fund is entirely separate from the Alumni Fund.) The reunion is essentially budgeted to break even, with classmates' dinner payments covering expenses, so the class fund generally has either a small surplus or a small deficit at any given time. This year we are making up a $200 deficit. This year we will also make a donation to Nathan and the Narwhals, who are playing Saturday night after dinner at the Olde Club.
In spite of these commitments, we would like also to accumulate a surplus in the Class Fund which would allow us to sponsor more activities in future years: for example, sponsoring a panel discussion and supporting travel expenses for panelists, sponsoring field trips, and perhaps reducing the dinner cost. Your contribution of any amount will help us achieve these goals.