1975 Swarthmore College Faculty by Department
From the 1975–1976 Swarthmore College Bulletin (Catalogue Issue). Links, when present, refer to photos from the 1976–1977 Halcyon.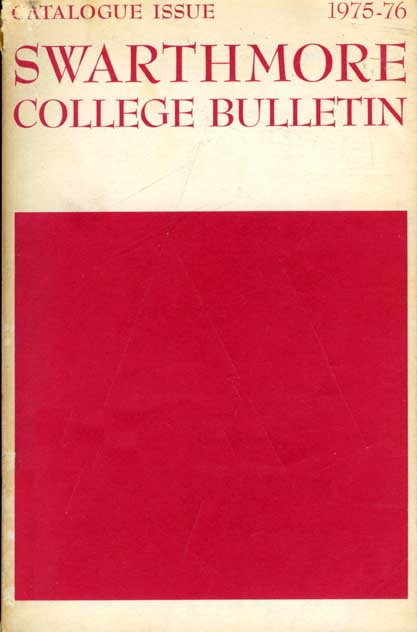 Administration

THEODORE W. FRIEND, President
EDWARD K. CRATSLEY, Vice President—Administration
KENDALL LANDIS, Vice President—Alumni, Development, Public Relations
HAROLD E. PAGLIARO, Provost
THOMAS H. BVLACKBURN, Dean
DEBORAH TOWNSEND, Dean of Women
WILLIAM D. QUESENBERY, JR., Dean of Admissions
GILMORE STOTT, Associate Provost, Registrar
JANE H. MULLINS, Associate Registrar

ART

TIMOTHY KAORI KITAO, Professor and Chairman
HEDLEY H. RHYS, Professor
ERIC G. CARLSON, Associate Professor
ALISON M. KETTERING, Assistant Professor
KIT-YIN TIENG SNYDER, Assistant Professor (part-time)
DANIEL L. BLACK, Instructor
CONSTANCE C. HUNGERFORD, Instructor
MICHAEL KNUTSON, Instructor

ASIAN STUDIES

Coordinator: DONALD K. SWEARER

ASTRONOMY

WULFF D. HEINTZ, Professor and Chairman
SARAH LEE LIPPINCOTT, Lecturer and Director of Sproul Observatory
JOHN L. HERSHEY, Assistant Professor
PETER VAN DE KAMP, Research Astronomer

BIOLOGY

LAUNCE J. FLEMISTER, Professor
NORMAN A. MEINKOTH, Professor and Chairman
KENNETH S. RAWSON, Professor
JAMES C. HICKMAN, Associate Professor
JOHN B. JENKINS, Associate Professor
ROBERT E. SAVAGE, Associate Professor
MARK JACOBS, Assistant Professor
ALAN J. LEWIS, Visiting Assistant Professor
MARGARET L. MIOVIC, Assistant Professor
BENJAMIN W. SNYDER, Assistant Professor
GLORIA ROSEN, Assistant
BARBARA Y. STEWART, Assistant
JEAN L. TOMEZSKO, Assistant

BLACK STUDIES

Coordinator: JEROME H. WOOD, JR.

CHEMISTRY

EDWARD A. FEHNEL, Professor
PETER T. THOMPSON, Professor
JAMES H. HAMMONS, Associate Professor
RAYMOND J. SUPLINSKAS, Associate Professor and Chairman
JOHN C. BAILEY, Visiting Assistant Professor
FRANCIS H. MARTIN, Assistant Professor
DWIGHT A. SWEIGART, Assistant Professor
URSULA M. DAVIS, Assistant
MARGARET M. LEHMAN, Assistant

CLASSICS

HELEN F. NORTH, Professor and Chairman
MARTIN OSTWALD, Professor and Acting Chairman
THOMAS N. MITCHELL, Associate Professor
GILBERT P. ROSE, Associate Professor
DANIEL TOMPKINS, Assistant Professor
MICHAEL C. ALEXANDER, Instructor
GABRIELE HOENIGSWALD, Lecturer

ECONOMICS

EDWARD K. CRATSLEY, Professor
FRANK C. PIERSON, Professor and Chairman
FREDERIC L. PRYOR, Professor
BERNARD SAFFRAN, Professor
ROBINSON G. HOLLISTER, JR., Associate Professor (part tune)
VAN DOORN OOMS, Associate Professor
HOWARD PACK, Associate Professor
PETER KEMPER, Assistant Professor
WILLIAM J. STULL, Assistant Professor

EDUCATION

ALICE K. BRODHEAD, Associate Professor and Program Director
FRANCES SCHWARTZ, Assistant Professor (part-time) and Lecturer in Anthropology
EVA F. TRAVERS, Assistant Professor (part-time)

ENGINEERING

CARL BARUS, Professor
DAVID L. BOWLER, Professor
SAMUEL T. CARPENTER, Professor
H. SEARL DUNN, Professor and Chairman
JOHN D. McCRUMM, Professor
M. JOSEPH WILLIS, Professor
MAURICE F. ABURDENE, Assistant Professor
WILLIAM L. HSU, Assistant Professor
FREDERICK L. ORTHLIEB, Assistant Professor
H. ALAN HUME, Lecturer

ENGLISH LITERATURE

THOMAS H. BLACKBURN, Professor
DAVID COWDEN, Professor
HAROLD E. PAGLIARO, Professor
SUSAN B. SNYDER, Professor and Chairman
DEREK TRAVERSI, Professor
LEE DEVIN, Associate Professor and Director of The Theatre
CHARLES JAMES, Associate Professor
PHILIP M. WEINSTEIN. Associate Professor
CHARLES A. BALESTRI, Assistant Professor
BARRY GRADMAN, Assistant Professor
JOHN HINCHEY, Assistant Professor
LUCY S. McDIARMID, Assistant Professor
CRAIG WILLIAMSON, Assistant Professor
ROBERT TEITELBAUM, Instructor and Technical Director of The Theatre

HISTORY

ROBERT C. BANNISTER, Professor
PAUL H. BEIK, Professor
JAMES A. FIELD, JR., Professor
PRADIP SINHA, Cornell Visiting Professor
BERNARD S. SMITH, Professor
HARRISON M. WRIGHT, Professor and Chairman
KATHRYN L. MORGAN, Associate Professor
JEROME H. WOOD, JR., Associate Professor (part-time)
MARGARET ANDERSON, Assistant Professor
ROBERT S. DUPLESSIS, Assistant Prolessor
LILLIAN M. LI, Assistant Professor

LINGUISTICS

ALFRED BLOOM, Assistant Professor and Program Director
SUSAN BLADER, Lecturer

LITERATURE

Coordinator: EUGENE WEBER

MATHEMATICS

DAVID ROSEN, Professor and Chairman
STEVENS HECKSCHER, Professor
JAMES W. ENGLAND, Associate Professor
GUDMUND R. IVERSEN, Associate Professor
EUGENE A. KLOTZ, Associate Professor
J. EDWARD SKEATH, Associate Professor
FRED SOLOMON, Assistant Professor
E. R. MULLINS, JR., Director of Computer Education and Activities

MEDIAEVAL STUDIES

Coordinator: P. LINWOOD URBAN (fall semester)

BERNARD S. SMITH (spring semester)

MODERN LANGUAGES AND LITERATURES

GEORGE C. AVERY (German), Professor and Chairman
GEORGE KRUGOVOY (Russian), Professor
ROBERT C. MELZI (Italian), Visiting Professor
JEAN ASHMEAD PERKINS (French), Professor
FRANCIS P. TAFOYA (French and Spanish), Professor
THOMPSON BRADLEY (Russian), Associate Professor
PHILIP MEIZIDAKIS (Spanish), Associate Professor
ROBERT ROZA (French), Associate Professor
SIMONE VOISIN SMITH (French), Associate Professor
EUGENE WEBER (German), Associate Professor
TATIANA M. COSMAN (Russian), Assistant Professor (part-time) and Director of the Language Laboratory
CONSTANCE GARCIA BARRIO (Spanish), Visiting Assistant Professor
JOHN J. HASSETT (Spanish), Assistant Professor
GEORGE MOSKOS (French), Assistant Professor
SCOTT MCLEAN (German), Instructor
MICHELE CRUZ-SAENZ (Spanish), Lecturer
ELKE PLAXTON (German), Lecturer
ANNIE COUTELLE (French), Assistant

MUSIC

PETER GRAM SWING, Professor
JAMES D. FREEMAN, Associate Professor and Chairman
DAVID H. STEINBROOK, Assistant Professor
JOHN M. PEEL, Instructor
JANE A. COPPOCK, Lecturer
ROBERT M. SMART, Associate in Performance

PHILOSOPHY

HUGH M. LACEY, Associate Professor and Chairmanf
HANS OBERDIEK, Associate Professor
CHARLES RAFF, Associate Professor and Acting Chairman
RICHARD SCHULDENFRET, Associate Professor
CAROL GOULD, Assistant Professor
DAVID LACHTERMAN, Assistant Professor
GILMORE STOTT Lecturer

PHYSICAL EDUCATION FOR MEN

WILLIS J. STETSON, Professor of Physical Education for Men and Director of Athletics
WILLIAM C. B. CULLEN, Associate Professor
GOMER H. DAVIES, Associate Professor
LEWIS H. ELVERSON, Associate Professor
ERNEST I. PRUDENTE, Associate Professor
DOUGLAS M. WEISS, Assistant Professor
EDWARD COSLETT, Assistant
BROOKE P. COITMAN, Assistant
MICHAEL P. FITZPATRICK, Assistant
THOMAS F. LAPINSKI, Assistant
JOSEPH LEITNER, Assistant
C. I. STEFANOWICZ, Assistant
EDGAR TOWNSLEY, Assistant
JOHN P. UDOVICH, Assistant
ANDREW J. ZACHORCHEMNY, Assistant

PHYSICAL EDUCATION FOR WOMEN

ELEANOR K. HESS, Professor and Chairman
PATRICIA WITYK BOYER, Associate Professor
IRENE MOLL, Associate Professor
SUSAN DAVIS, Instructor

PHYSICS

OLEXA-MYRON BILANIUK, Professor
MARK A. HEALD, Professor and Chairman
PAUL C. MANGELSDORF, JR., Professor
JOHN R. BOCCIO, Associate Professor
ALBURT M. ROSENBERG, Associate Professor
DUNCAN E. McBRIDE, Assistant Professor
MICHAEL D. ROSENTHAL, Assistant Professor

POLITICAL SCIENCE

CHARLES E. GILBERT, Professor
J. ROLAND PENNOCK, Professor
DAVID G. SMITH, Professor and Chairman
RAYMOND F. HOPKINS, Associate Professor
JAMES R. KURTH, Associate Professor
ARYEH BOTWINICK, Visiting Assistant Professor
BRUCE G. CUMINGS, Visiting Assistant Professor
KENNETH E. SHARPE, Assistant Professor

PSYCHOLOGY

KENNETH J. GERGEN, Professor and Chairman
DEAN PEABODY, Professor
ALLEN SCHNEIDER, Professor
ALFRED BLOOM, Assistant Professor
JEANNE MARECEK, Assistant Professor
BARRY SCHWARTZ, Assistant Professor
JEFFREY TRAVERS, Assistant Professor
KAYLA BERNHEIM, Visiting Lecturer
HANS WALLACH, Research Psychologist

RELIGION

P. LINWOOD URBAN, JR., Professor and Chairman
DONALD K. SWEARER, Professor
J. WILLIAM FROST, Associate Professor
PATRICK HENRY, Associate Professor
SANDRA ROBINSON, Instructor
RIVKA HORWITZ, Visiting Lecturer
HOWARD KEE, Visiting Lecturer
SAMUEL T. LACHS, Visiting Lecturer
FLETCHER I. BRYANT, JR., Associate Dean of Students

SOCIOLOGY AND ANTHROPOLOGY

LEON BRAMSON, Professor and Chairman
JOHN F. SZWED, Visiting Professor
STEVEN PIKER, Associate Professor
JENNIE-KEITH ROSS, Associate Professor
SHEILA K. BENNEYI, Assistant Professor
JAMES BROW, Assistant Professor
HANS-EBERHARD MUELLER, Assistant Professor
FRANCES SCHWARTZ, Lecturer